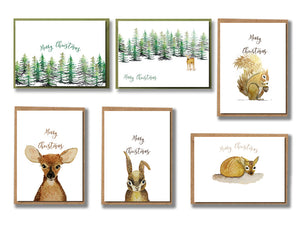 Forest Animals
Christmas Cards - Set of 12 - Premium Envelopes included
6 Designs
Hand-painted, watercolor forest scenes, reproduced on premium quality, biodegradable, Watercolour paper. Each card comes with it's own luxury envelope. This set includes cards featuring a woodland, a deer portrait, a bunny rabbit portrait and a squirrel.
Originals created with ink, watercolour and gouache on cold-pressed paper. 
Sizes:
Small A6 10.5 x 14.8cm
Large A5 14.8 x 21cm 


Cards are made to order, individually reproduced from the original watercolor. Each piece is signed by the artist, on high quality, thick watercolor paper. Then carefully packaged in a protective sleeve and sent out to you within 3 business days!

*Colors may vary due to screen resolution.